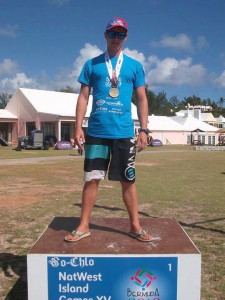 Andy Petts has made history, and is now a Cayman Windsurfing legend, having represented the Cayman Islands in the Sailboarding event at the 2013 Natwest Island Games in Bermuda, and come home with the gold medal, and by quite a long way!
Facing competition against sailors hailing from Bermuda, Guernsey, Jersey, Menorca and Alderney, he took the lead a few days into the event, and then finished off by coming first in the last 6 heats, proving he was by far the best sailor out there!
Congratulations Andy, we're all very proud of you!
See the results here: http://www.natwestislandgames2013results.com/files/Sailboarding.pdf
[fbalbum url='https://www.facebook.com/media/set/?set=a.586797198039325.1073741828.393324084053305&type=1′]